On Wednesday, 30 November, the Training Institute of Radiographers
IFMEM
,conducted a training session on how to optimize patient safety at
Poissy/Saint-Germain-en-Laye hospital
. As part of this session, Florent Jault, our
Radiation Dose Monitor (RDM)
product specialist, met with the students to share his professional experience on the topic. He not only presented the contribution of a DACS solution in medical imaging, but he also demonstrated the solution in real-time.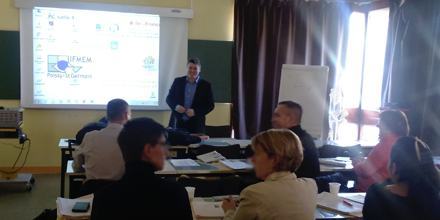 The importance of tracking patient dose in medical imaging
Drawing on his radiographer education background, Florent addressed the issue of "how to manage the risks related to ionizing radiation, and how to improve professional practices". Improving professional practices included the subject of using a DACS solution in a medical imaging department to better track the dose levels delivered to patients. "The alert system, based on the Diagnostic Reference Levels (DRLs), and the advanced statistical software tools are essential for monitoring patient dose," Florent declared.
Demonstrations and practical examples
After defining the DACS concept, Florent gave a live demonstration of RDM and presented some practical examples of how to use the DACS solution. "RDM is a solution with advanced statistical tools. An ergonomic solution, it makes comparing machines, adapting protocols, obtaining patient dose history, etc. quick and easy. These practical examples show that the solution helps reduce the dose delivered to the patient significantly," Florent concluded.
The requirements of the European Directive EURATOM 2013/59
Our product specialist also reminded everyone of the requirements of the European Directive: "Exposing patients to ionizing radiation is a hot topic − particularly with the release of the Euratom 2013/59 Directive, which will take effect on 6 February 2018," Florent said. In addition to this regulatory context, Florent noted "the increasing awareness among healthcare professionals of the importance of measuring patient radiation dose exposure and contributing to the quality of care."